Introduction
Incoterms are a set of rules which define the responsibilities of sellers and buyers for the delivery of goods under sales contracts. Shippers worldwide use standard trade definitions (called Incoterms) to spell out who's responsible for the shipping, insurance, and tariffs on an item; they're commonly used in international contracts and are protected by International Chamber of Commerce copyright. Incoterms significantly reduce misunderstandings among traders and thereby minimize trade disputes and litigation. Familiarize yourself with Incoterms so you can choose terms that will enable you to provide excellent customer service and clearly define who is responsible for which charges.

What are the Current Incoterms?
In 2010, the two main categories of Incoterms were updated and are organized by modes of transport. Used in international as well as in domestic contracts for the first time, the new groups aimed to simplify the drafting of contracts and more clearly stipulate the obligations of buyers and sellers: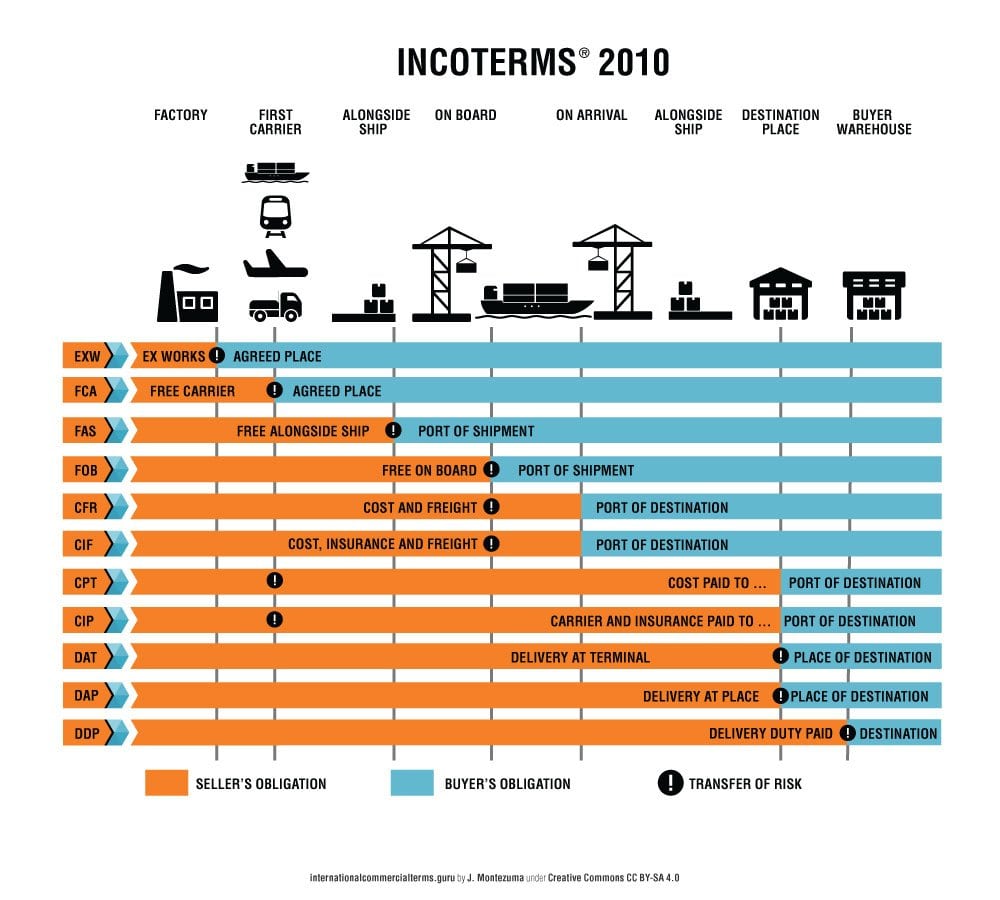 Group 1. Incoterms that apply to any mode of transport are:
Group 2. Incoterms that apply to sea and inland waterway transport only:


FAS Free Alongside Ship


FOB Free on Board


CFR Cost and Freight


CIF Cost, Insurance, and Freight


*Please stay tuned, we will explain every incoterm in the near future.
Can I still use the Incoterms 2000?
According to the International Chamber of Commerce, all contracts made under Incoterms 2000 remain valid even after 2011. In addition, although the ICC recommends using Incoterms 2010 from January 2011 onward, parties to a sales contract can agree to use any version of Incoterms after 2011. It is important, however, to clearly specify the chosen version of Incoterms being used (i.e. Incoterms 2010, Incoterms 2000, or any earlier version).