CPT delivery term in Incoterms 2010 is decrypted "Carriage Paid To" with an indication the destination place. The dealer will transfer the cargo released in the customs export mode to the carrier.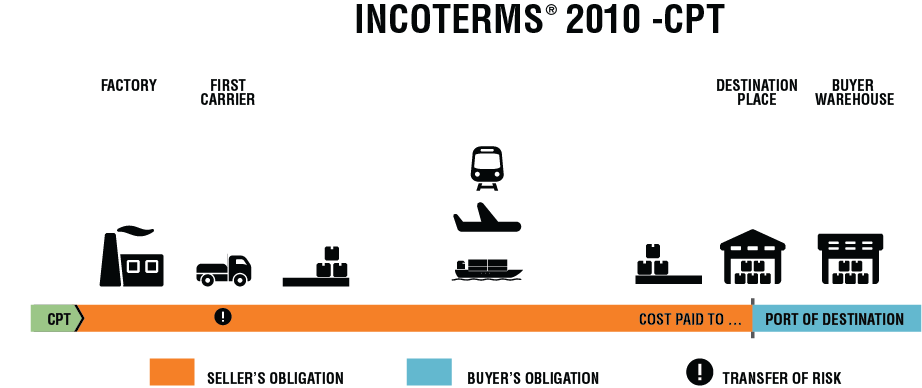 Risks and responsibilities distribution in the CPT
The marketer is accountable for the freight before the transfer to the carrier. The customer accepts risks in the delivery process to the needed place. The CPT Incoterms treaty contains two critic points. Risk and costs pass at two different points:


Risk after loading the cargo into the vehicle.


Expenses at the destination.


Responsibilities for Basic CPT Delivery Terms
The dealer takes the expenses for delivering the freight to the specified place. He performs export customs clearance for the products with export duties and any fees paid in the leaving country. The marketer is not required to perform customs procedures for the cargo's importation.
Transport types
The term CPT Incoterms is used for hauling by any transport mode, including multimodal delivery:


By rail;


Automotive;


By air;


Sea shipping;


Inland water transport.


The carrier, on the carriage contract reason, organizes the cargo's delivery (independently or with third-party helping). If transportation is carried out by several companies, the risk transfer will occur at the moment of freight transfer to the first of them.
CPT price, payment terms, and ownership transfer
CPT price includes:


The product's cost;


Export customs clearance with export duties and other fees payment;


Freight cost to destination.


More about CPT
Terms of delivery CPT Incoterms don't indicate the price for the product and payment method. Price and transfer of ownership must be determined in the commercial contract.
The trade term CPT indicates which of the parties to the selling contract must carry out the actions necessary for the carriage and customs clearance. And also, when and where the seller transfers the goods to the buyer, and what expenses each party bears.