Bulk cargo is a shipping term for items that are shipped loosely and unpackaged as opposed to being shipped in packages or containers.
An item may be classified as bulk cargo if it is not containerized and easily secured on a vessel. Items such as oil, grain, or coal are all examples of bulk cargo.
Bulk cargo is classified as either free flowing, a liquid, or a dry item. This type of cargo is typically dropped or poured as a liquid or solid into a merchant ship, railway car, or tanker truck.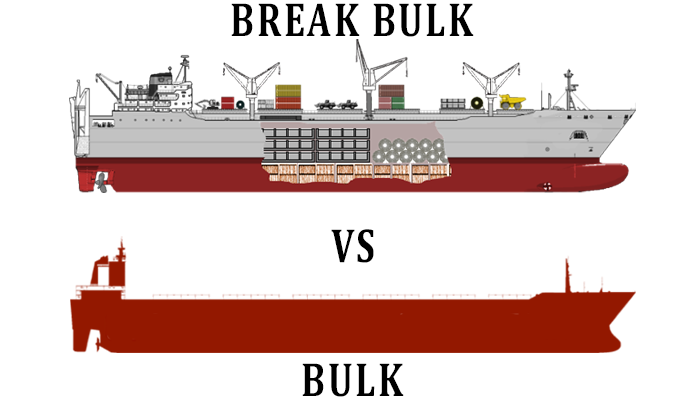 Break bulk cargo is packaged cargo that is oversized or heavyweight, creating a more complex logistical challenge. Goods can't be containerized for overseas shipments, as they consist of multiple, differently sized items, loads or units for individual consignees. They also can't be loaded onto flat rack containers, due to their size or weight.
Break bulk goods are packaged and transported using bags, crates, drums, or barrels, or might be packed and secured on pallets. These items are loaded and unloaded onto ships individually, increasing handling and transportation costs. They are typically transported on specialty ships that use heavy lift cranes to accelerate loading and unloading.
Bulk break cargo includes:


Construction equipment


Oil and gas equipment


Yachts


Steel girders