Spotlight on Amazon Fulfillment Center SCK4
The Amazon Fulfillment Center SCK4 isn't just another warehouse in the Amazon network; it's a testament to operational efficiency and logistical brilliance. Situated in a strategic geographic location, SCK4 serves as a critical transit point for goods catered to vast consumer demographics. Built to facilitate large volumes, it integrates cutting-edge technological solutions, from advanced robotics to AI-driven sorting systems. For sellers, this means a quicker turnaround time for inventory processing, potentially translating to faster sales cycles.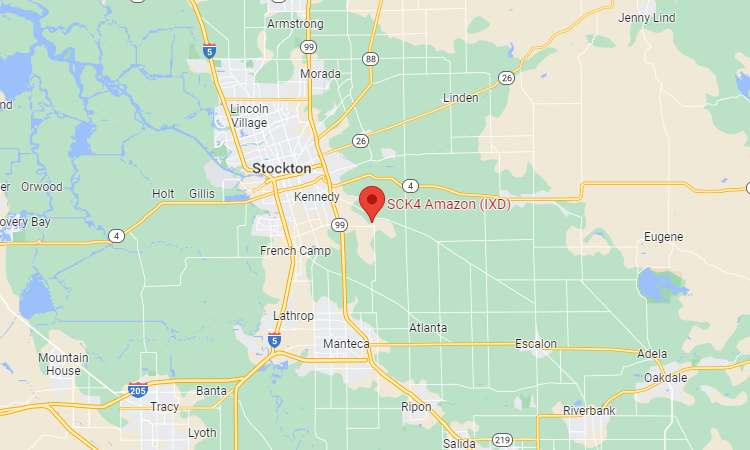 Amazon SCK4 is a new inbound cross dock (IXD) center in Stockton, California, that opened its doors in October 2023. It is one of four Amazon facilities in California and the second in Stockton. The center receives and consolidates products from vendors and then ships them to surrounding Amazon fulfillment centers. The facility covers 638,000 square feet and employs 2,200 part-time and full-time workers. The center is part of Amazon's efforts to reduce warehousing costs, improve order fulfillment time, and enhance customer satisfaction.
Steps to Ship from China to Amazon Fulfillment Center SCK4


Vendor and Product Agreement:


Engage with suppliers well-acquainted with Amazon's quality and operational standards.
Ensure your products are in line with Amazon's specified guidelines.


Deciphering the Best Transportation Mode:


Air Freight: Swift, ideal for items that demand rapid market presence.
Ocean Freight: Economical for vast volume consignments, albeit with extended transit times.
Express Couriers: Preferable for smaller batches requiring swift delivery.
Rail Freight: An equilibrium between cost and speed, especially apt for goods originating from China's inner regions.



Streamlined Preparation of Commodities and Documentation:


Adhere to Amazon's packaging guidelines, ensuring merchandise safety during transit.
Vital documentation encompasses:
Commercial Invoice
Packing List
Bill of Lading or Airway Bill
Amazon FBA Shipment ID Labels


Seamless Booking of Your Delivery Window:


Coordinate via the Amazon Seller Central portal to secure an optimal delivery slot at SCK4.


Vigilant Monitoring of Your Shipment:


Keep abreast of your consignment's journey via the assigned tracking code.
Engage a forwarder or shipping agency that upholds transparency with timely updates.
Essential Tips and Caveats
Navigating Additional Costs:
An all-inclusive door-to-door service can mitigate unforeseen charges.
Be proactive in clearing cargo to sidestep demurrage and detention fees.
Acing Customs Protocols:
Partner with a seasoned customs broker or opt for a shipping agency that pledges holistic solutions.
It's paramount that merchandise aligns with Chinese export directives and the import framework of the destination.
Strategizing Product Returns and Refunds:
Enunciate a crystal-clear return protocol on Amazon to mitigate ambiguities.
Maintain a rapport with Amazon's FBA personnel to gain insights and rectify inventory discrepancies.
FAQs
Q: What's the protocol during unexpected customs audits?
A: Contingency planning is pivotal. Documentation accuracy and product compliance expedite such procedural checks.
Q: Any tips to curtail storage overheads at the SCK4 center?
A: Precision in inventory prediction aids in optimal stock levels. Impeccable labeling and packing expedite warehouse processing, reducing potential storage durations.
Q: In case of inconsistencies post the merchandise's SCK4 arrival, what's the recourse?
A: Commence dialogue with Amazon's Seller Support posthaste. Insuring consignments adds an additional safeguard against unforeseen losses.
In Conclusion:
The journey to the Amazon Fulfillment Center SCK4 from China, while layered, is manageable with the right expertise and insights. This center, with its advanced capabilities, underscores the importance of impeccable logistical planning. Sellers who harness this guide's insights can not only ensure smooth shipping but also optimize their sales trajectories leveraging SCK4's operational excellence.