Drop Shipping or Fulfillment By Amazon (FBA)
For most of the people who just start out with their e-commerce business, they might be confused between different fulfillment methods, such as Drop Shipping, Fulfillment By Amazon, and Fulfillment By Merchant.
Lucky for you, you just come to the right place. In this article, we will share everything that we know about FBA and Drop Shipping to help you find the best for your online business. And FBM will be another story to tell in the near future.
Before we show you the pros and cons of each fulfillment method, we will first help you understand how they work.
FBA as known as fulfillment by Amazon, it is a system with advanced fulfillment networks created and operated by Amazon. As they say in Amazon's term "You sell it. We ship it", sellers ship and store products in Amazon fulfillment centers, when products are sold, Amazon will be responsible for the picking, packing, shipping products and managing customer service and returns.
Here is an infographic will help you understand.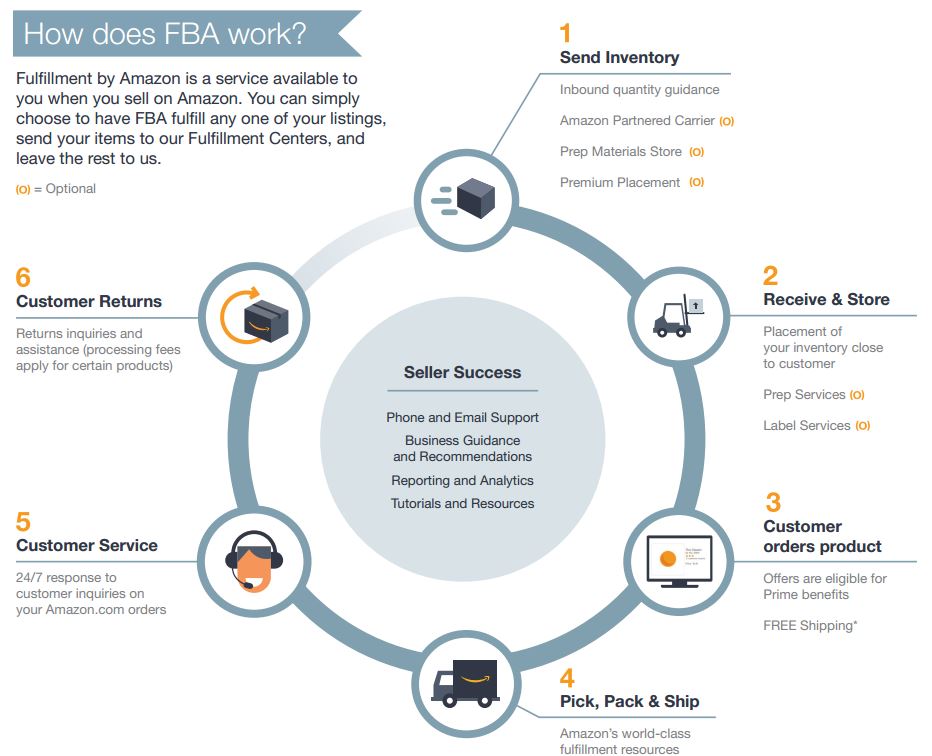 What is Drop Shipping?
With this retail method, sellers do not have to own the products, they act more like a middleman. When products are sold, sellers purchase the products from manufacturers or a third-party source (like Aliexpress) and ship it directly to the buyers.
Here is another infographic for you.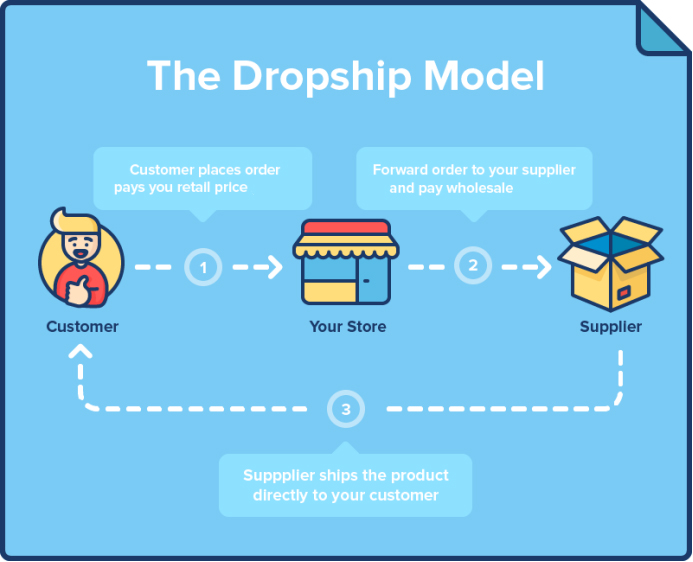 Now, it is time to show you which is the better method for you to start or improve your e-commerce business.

Drop Shipping vs Amazon FBA: Let the Fight Start
Amazon FBA: Pros and Cons

Attracting customers is one of the hardest jobs for any new company, but with the services from Amazon, you can reach a large number of consumers from one of the biggest consumer base in the world with a low cost and in a short time.


Hands Free From Shipping, Returns And Customer Services


Once your products arrive at Amazon fulfillment centers, you do not need to worry about the shipping, returns and customer services. Leave it to Amazon and focus on your business.


Sell Your Products At Higher Prices


You did not misread, and it is true. Thanks to the credit that Amazon has earned, you can sell non-profitable products at higher prices.
After all the hard works been done, the only thing you expect is money. When Amazon FBA service, your money, and your account are safe.

If you have various of products selling on Amazon, it is not likely that you can sell all of them at once. And when the unsold stale stock gets larger, it becomes impossible for you to keep record for your inventory.
Amazon is a place for everyone to sell products, people can start a business in one hour, so there are many people selling exactly the same products as you do, and maybe at lower prices.
When customers search for products they want, you and your competitors show up on the same page. It is not easy to stand out of thousands of sellers who are selling the same products.


Products and Shipping Restrictions


Amazon is a place for everyone to start an e-commerce business, but it is not a place for every product. There are many types of products can not be sold on Amazon, such as laser products, plants and seeds, jewelry, infant car seat and etc. To access the full list of restricted products on Amazon, please click here.
Amazon also has strict shipping restrictions, for more information, please check here.


Become Over Depended on Amazon


It is no doubt that FBA will help you with your business, but when you get more into it, the more you rely on Amazon. You do everything by the rule created by Amazon, once you break any, Amazon might close your account and you lose everything.
Even if you do everything you are told to do, there could be nothing you can do when Amazon changes their algorithm or changes its rules. It does not happen a lot, but no one can guarantee it won't happen.


There Is Always A Wall Between You And Customer


No matter how much money and energy you spend on expanding your business, Amazon always has all your customer information.
You bring new customers from Google, Facebook, Youtube with thousands of money spending on advertising, and Amazon has your customer information. This just does not feel right.
FBA is not a free for use service, you need to pay a fixed amount to Amazon for services they provide, such as storage fee, referral fee, fulfillment fee and etc. It could be huge costs sometimes.
Click here to understand how much you should pay for FBA.
Except FBA fees, you are also responsible for getting products from supplier to FBA fulfillment centers, that could also be huge sums. If you need help with freight quote from supplier to FBA fulfillment centers, use free quote service here.
Drop Shipping: Pros and Cons



Build A Skyscraper With Nothing


The best thing about Drop Shipping is that you can start a business with almost NO capital investments. It will be a great option for new entrepreneurs who have limited initial capital.


Supplier Takes The Most of Responsibilities


What you need to do in drop shipping is marketing, manage customer services and place the order with your supplier when you receive an order.
After that, your supplier will be responsible to pick, pack, ship the products and take care of the returns.
With Drop Shipping, you could have zero inventory. Even if your business did not turn up so good, the loss is the money and time that you spend on starting your website and business. Anyway, your loss is not big and is even negligible, comparing to the loss of a store closed with unsold inventory.
The more the diversity of your products, the more orders you might receive.
If you start your business with expanding your own inventory, it becomes impossible for you to run a store with a variety of products, because, with limited initial capital, you can only purchase a few products in large quantities.
But, when you are using drop shipping, you don't need to worry about inventory, just focus on increasing the diversity of your products.
Drop shipping does not require much capital to get started, and it is almost risk-free. But nothing is perfect, so is drop shipping.
When you are using drop shipping, you are actually not the seller, but a middleman in the trade, so the returns would be less.



Without Detailed Information


You do not have direct access to the products with drop shipping, and most of the suppliers can not give you detailed information about the products. Therefore, listing products on your website and write the proper description about them becomes big challenges.
When you receive customer's queries, again, you do not have detailed information to tell the customer whether the product is described as it is or what it actually looks like. You usually come to know that when the customer writes a review about it.
Drop Shipping vs Amazon FBA: Conclusion
These two methods are both good enough to start an e-commerce business and make money out of it.
If you were a beginner of e-commerce or do not have much initial capital or can not bear greater risks, I would say Drop Shipping is the better option for you. Because it is simple and you do not to invest much to get started.
Amazon is a big name and you gain advantage from their world-class customer base. So, there is no doubt that Amazon FBA will give you huge returns, but you need to make huge investments before that. Unlike drop shipping, you still need to handle the shipments from supplier to FBA fulfillment centers, that could be a hassle. But you can outsource it with freight forwarding companies such as Forest Shipping Intl, Ltd.
We hope now you know which you should choose between Amazon FBA and Drop Shipping
If you still have any questions, please feel free to comment below.